Digital Printing Equipment
Large Format Digital Printing
Epson Sure Colour

https://www.youtube.com/watch?v=Io_U7QAecw4
Grand Media Format Digital Printing

Agfa and Eco-Alpine Media
Anapurna M1600
The Anapurna M1600 is a hybrid flatbed 1.6m wide UV cured industrial inkjet system. It is suitable for graphic screen printers and sign shops. It comes as standard with both pre and post white printing, making it suitable for printing on transparent and solid materials. Top class productivity is ensured with a print output of up 46m2/hr in express mode, using UV cured inks for faster drying, material versatility and a wide colour gamut.
To switch from Flatbed to roll to roll is instant as the Anapurna uses tables which are easily removed to enable the user to switch to a roll to roll system. This system has excellent substrate flexibility, it is able to print on media thicknesses up to 45mm, weight up to 10kg/m2 for flatbed and 50kg roll to roll. Media width is up to 158cm with borderless printing up to 152cm width.
Contact Machine Sales or Email Us for further information, quotations or a presentation on this machine.
Anapurna M2050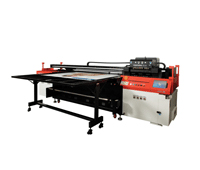 The Anapurna M2050 is the big brother printer to the M1600, with a maximum print width of 2.05m x 3.2m (Rigids) and a maximum width of 2.05m on roll media. The Printer come standard with CMYK + LcLm+White and is capable of printing pre and post white. With a throughput of up to 53m2/hr in express mode it is faster and more efficient than the M1600. Like the M1600 the M2050 is able to print on any material up to 4.5cm thick and is able to print on multiple boards at once. As with the M1600 the M2050 has removable tables which allow switching between rigid and roll media to be simple and painless.
The Anapurna M2050 is ideal for Digital Printers, Photo shops, Poster printers and Mid – Size graphic Screen Printers. The possibilities are numerous because of the high application versatility of the Anapurna M2050 e.g. Displays, posters, POP, In-House decoration, CD Covers, beer coasters, party gadgets etc.
To find out more or for a presentation and samples Contact Machine Sales or Email Us.
Jeti Titan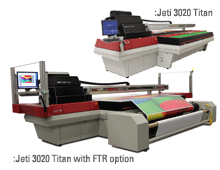 The ultimates upgradeable high resolution production UV-inkjet printer with a flat to roll option. The :Jeti Titan challenges the percetions of what a printer can do for your business, delivering high resolution quality, high production speeds and uniquely the ability to increase the speed and capabilities of your Titan as your business grows.
The Titan range starts with a 16 head unit delivering an impressive 101m2/hr (In Express mode) and is field upgradeable with white, varnish, light colours, orange and green and with more CMYK heads up to a massive 48heads, giving up to 195m2/hr. With this flexibility you are able to choose the level of efficiency that suits your business needs.
The Flat to Roll option will give you the ability to print roll materials with the same high quality and resolution.
To find out more or for a presentation and samples Contact Machine Sales or Email Us.
:Jeti 3312 Solvent Roll to Roll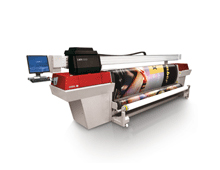 The :Jeti 3312 Solvent RTR is a 3.3m Grand format printer with True 600dpi (1200dpi apparent) with equal or better quality than any large format inkjet printer in the market. It is unquestionably the lowest cost high resolution printer in the market today comparing the cost of printer, ink and production, achieving speeds far greater than any other large format inkjet printer on the market.
The :Jeti 3312 is also available with a backlit option to print on both sides with perfect registration allowing operators to produce brilliant warranted backlit signage. Media Types: Reinforced Vinyl, pressure sensitive vinyl, canvas, fabrics, mesh and paper.
The :Jeti 3312 comes with a choice of RIP and full training of printer during Setup. Also included is a 1 year warranty on parts and an option of an extended warranty.
To find out more or for a presentation and samples Contact Machine Sales or Email Us.
:Jeti 5024 Solvent RTR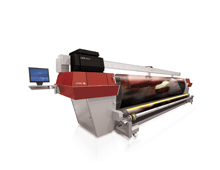 This 5.1m grand format printer with 24 Spectra Print heads is unquestionably the fasted grand-format printer on the market today. True 600dpi (1200dpi apparent) and 6 colour graphics on the :Jeti 5024 puts it in a class of its own, producing quality that compete with conventional large format inkjet printers at a far lower cost.
As with the :Jeti 3312 the :Jeti 5024 is available with a backlit option with perfect registration on both sides. The Jeti 3324 is also available in a 300dpi 4 colour high speed model achieving between 110 and 160m2/hr depending on the quality requirements for extra large images such as building wraps.
At the forefront of the technological enhancements is the software upgrade that can detect if a single nozzle is misfiring, the software will automatically compensate the saturation, safe-guarding the image output. Also included is Automatic Head Capping feature (auto caps the in 15minutes if the machine sits) with an automated air vacuum system that eliminates manual head wiping.
To find out more or for a presentation and samples Contact Machine Sales or Email Us.
:Jeti 3324 Aquajet RTR (Waterbased Textile printer)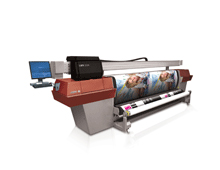 The Aquajet is a 3 meter wide dye sub printer using specially formulated, waterbased dye dispersed inks that allow printing directly onto any polyester base fabric, achieving vibrant colours that are brilliant, fade and wash resistant. The Aquajet features 24 Spectra print heads in 6 colours with up to 400dpi resolution giving ultra real images at production speeds of up to 45m2/hr.
To find out more or for a presentation or quotation Contact Machine Sales or Email Us.
Digital Presses
MGI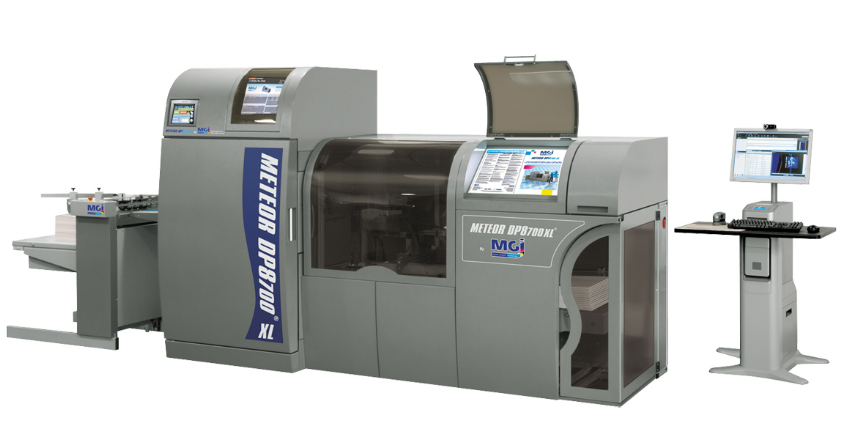 Through our partners Ferrostaal in South Africa we are able to bring to Zimbabwe a true multi substrate Digital Press from MGI. Providing the printing industry with fantastic quality of printing up to 3600dpi, the MGI is capable of printing on a variety of substrates sized from 100 x 148mm up to a maximum of 330 x 1020mm.
To find out more about adding this amazing machine into your company Contact Machine Sales or Email Us
To find out more about this machine click here to download the brochure.